Dunedin FL Property Article
Posted by Lipply Real Estate on Sunday, February 6, 2022 at 8:42 PM
By Lipply Real Estate / February 6, 2022
Comment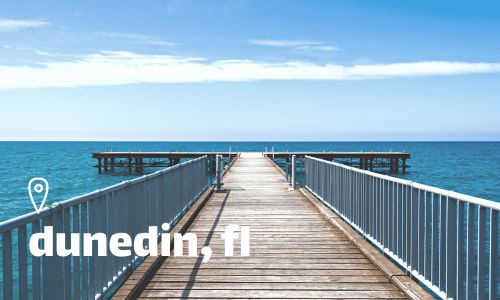 Dunedin (pronounced DONE-EE-DIN or some folks say "done eatin") is a great place to live. It is one of the older cities on the western part of Florida and its downtown has been transformed into a haven of little shops and great restaurants and nightlife. Walking magazine recently named Dunedin one of the five most walk able downtown areas in America. Dunedin is a very desirable city to buy real estate in.
Bayshore Blvd Views
You can enjoy the waterfront view from your front porch along the beautiful Bayshore Boulevard overlooking the Gulf of Mexico or from a condo along the Dunedin Causeway. Some of the more exclusive homes are found in Dunedin Isles or Baywood Shores, running close to $2.5 million. Breathtaking waterfront condos can be found in Harbor View Villas or Victoria Shores just to name a few, priced around $1.5 million. There are many different types of subdivisions in Dunedin that will suit a variety of lifestyles on or off the beach. Any Dunedin neighborhood is only a short bike, walk or drive from the beach. The Dunedin Marina and park is at the west end of downtown and a great place to enjoy a beautiful sunset.
The Beach and the Pinellas Trail
We enjoy spending the day at Caladesi and Honeymoon Island parks, where we enjoy swimming, fishing, picnicking, canoeing and walking the nature trails. You can only get to Caladesi Island by boat or on foot so you can enjoy the unspoiled beauty of the island without the sound of car motors and horns.

We also enjoy biking, rollerblading and walking along Dunedin's 4.2 miles of the Pinellas Trail, which is a 15 foot wide trail running through the St. Petersburg, Clearwater and Tarpon Springs areas. This trail is widely used and is a wonderful way to get to Downtown to meander through the many shops or grab a bite to eat.
Dunedin Events
We also enjoy the many events that Dunedin has to offer. We enjoy the Scottish Highland games, watching the many throwing competitions, learning about Scottish and Celtic culture and enjoying the Highland Dancing. Although far away from New Orleans, Dunedin offers a Mardi-Gras festival and parade which we also enjoy each year. This festival has brought in over 25,000 people and is one of the most popular events that we look forward to. During the spring months, we enjoy Friday Night Films in the park, where we can bring a picnic and enjoy classic movies. Dunedin is also the winter home to the Toronto Blue Jays where we may take a day off work to spend the day watching one of America's favorite pastimes.

If you enjoy water sports or the outdoors, there is a property in Dunedin perfect for you. Dunedin is centrally located to Tampa, St. Petersburg and Clearwater and in Pinellas County, only 90 minutes away from Disney World and Sea World which are in Orlando, Florida. Dunedin is a great place to call home or buy real estate with all it has to offer.