Dunedin Waterfront Property Article by Bob Lipply
Posted by Lipply Real Estate on Sunday, February 6, 2022 at 10:03 PM
By Lipply Real Estate / February 6, 2022
Comment
Dunedin Waterfront Living
About Dunedin Waterfront Living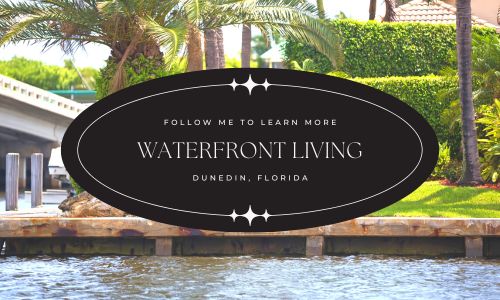 Most people who live in Dunedin will tell you that their town exhibits that close-knit, neighborly sense of community and that is what has kept their roots planted here for so long. Others will tell you that Dunedin is the perfect place for families with many beaches, parks and activities that take place each year, while others will just simply say it is a beautiful place to live. The beauty of this town, located in Pinellas County, is not only found in the community of people who live here, but also the homes and the variety of choices you have when searching for Dunedin real estate. Whether it be a new Florida-style single-family home, an established Spanish-style or "old style" home with charm, or the ever-popular multi-story condominium, something you won't have difficulty finding in Dunedin are waterfront properties of all types.
Enjoy Waterfront Views
Waterfront living has always been a popular lifestyle in Florida, after all we are surrounded by water on three sides of the state. The majority of people seeking a home on the water want to enjoy the breathtaking views that are experienced day in and day out from waterfront living as well as the easy access to water sports and leisure activities such as boating and fishing. Others will benefit from the relaxation factors associated with the sounds of waves, the scent in the air, the cool breezes, and the abundance of wildlife who call the water their home as well. No matter what your reason is for wanting to live waterside, all waterfront residents enjoy the steady rise of property values they gain from living on the water. It is never difficult to find someone seeking an interest in waterfront property. Dunedin has an abundance of waterfront properties to choose from that are available as a primary residence or a second home. A multitude of condominiums are also available along Dunedin Causeway and Bayshore Boulevard where the sights are very impressive.
Enjoy Boating, Fishing, or Water Sports
Even if waterfront property is not what you seek, but you enjoy boating and other water sports, many homes in Dunedin are available minutes away from the water. There is always water access close by so you can easily take part in the activities you enjoy. Keeping this in mind, Dunedin is the perfect city for those who love to spend time fishing, boating, or participating in other water related activities while having an abundance of residential choices located on or off the water.