Palm Harbor Information
Posted by Lipply Real Estate on Friday, February 23, 2018 at 2:09 PM
By Lipply Real Estate / February 23, 2018
Comment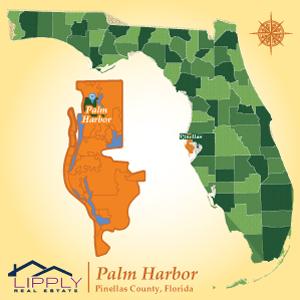 Geographically speaking Palm Harbor is located in Pinellas County, in the state of Florida, United States. As per the estimates of the United States Census Bureau, the region spans a total area of 68.9 km of which 46.4 km is land and 22.5 km is covered by water. According to the Census of the year 2016, this area had a total population of 60,236.

Palm Harbor is a short drive away from St. Petersburg, Clearwater, and Tampa and is most associated with beautiful gulf beaches of Florida, makes the area around Palm Harbor a popular tourist destination. It is home to some of the best resorts and golfing greens in the country like The Westin Innisbrook Resort in the posh upscale portion of Pinellas County. A mild climate throughout the year and the prolific sunny weather adds to its attraction.

Established by J.C. Craver in 1877, Palm Harbor witnessed gradual development of a post office and then railroad connectivity. Initially called Sutherland, an abbreviated form of the term Southern Land and Development Company, which oversaw its growth, the town's name was eventually changed to Palm Harbor in 1925.

According to the 2000 Census, Palm Harbor had 25,461 households, with 16,906 families. The town's population density was estimated at 1,276.6/km with 28,044 housing units. The racial break up was noted as: 95.83% Whites, 0.97% African Americans, 0.19% Native Americans, 1.28% Asians, 0.02% Pacific Islanders, 0.60% of other races, and 1.10% from two or more races. Hispanics or Latinos comprised 3.45% of the population.
All Your Questions Answered!