Safety Harbor :: Come For a Visit
Posted by Lipply Real Estate on Monday, February 7, 2022 at 3:02 AM
By Lipply Real Estate / February 7, 2022
Comment
Why do people visit Safety Harbor?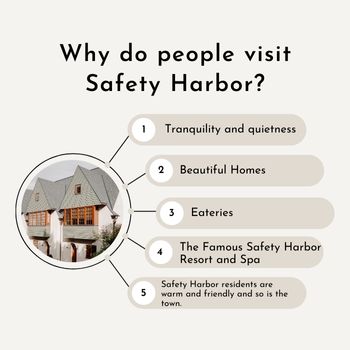 There is one great place that visitors can go to get away from it all in Safety Harbor and that is the Safety Harbor Resort and Spa. There are no other hotels in the city of Safety Harbor, only two other motels. Safety Harbor is not really a tourist place, it wasn't built that way and it isn't promoted that way, in fact it isn't really promoted at all to tourists. Unlike other places in Florida such as Miami, Orlando, or Tampa, Safety Harbor is strictly a residential area, catering to those that live within its city limits.

There are no attractions to speak of in Safety Harbor and the main reason why most people come here is to eat at the great bistros or to go to the Marina and Pier. The Safety Harbor Spa is really the only well known attraction in the area. People come from all over the world to rekindle their mind and body at the Spa. Most people find Safety Harbor by accident while spending time on vacation in Tampa or Clearwater. If they do visit, they find it to be a nice place to spend the day. They may stroll the downtown area, go over to the marina or visit the Safety Harbor Resort and Spa. Philippe Park in Safety Harbor is worth seeing as well as it has some of the most picturesque views of the Old Tampa Bay.

Residents love the tranquility and the quietness that Safety Harbor has always had and have never had a desire to change it. If you are planning a trip to the Tampa Bay area, take a ride over to Safety Harbor and take a look at all of the beautiful homes, great places to eat, the famous Safety Harbor Resort and Spa, and the beautiful marina and pier. Safety Harbor residents are warm and friendly and so is the town.